include(ABSPATH.'/adcodes/single_ads.php'); ?>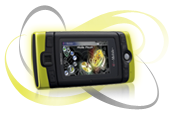 Ok, ok, everyone keeps submitting the BGR article confirming some features and how T-Mobile is going to market it as just "Sidekick" with a model number of 2008. So it looks like you'll be telling your friends you just got the "Sidekick". We here at hiptop3.com would like to start a grass-roots effort to actually call this the Sidekick Gekko in common conversation because it's a cooler name. What do you guys think? Which name would you have liked to see T-Mobile name it?

What should the Sidekick 2008 be called?
Sidekick Gekko (64%, 1,516 Votes)
Sidekick 2008 (17%, 403 Votes)
Sidekick Aspen (12%, 279 Votes)
Other (specify in comments) (4%, 103 Votes)
Sidekick Style 2 (3%, 62 Votes)
Total Voters: 2,363
Loading ...