include(ABSPATH.'/adcodes/single_ads.php'); ?>
Ryan writes to let us know he found this leaked info on the new Sidekick LX and LE. We're out at diner, posting from our Zante so we'll have to look into this further to see if it's legit or not. Wanted to at least get it to you guys to check out first.
UPDATE: We got copies of the pics in case they were pulled: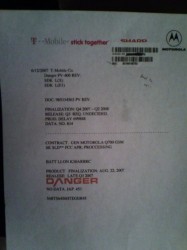 Not sure if this is just someone making really bad fakes or if someone is not capable of taking a decent photo. This piece of paper has a weird mix of Sharp, Motorola, Sidekick Slide (SLD and Q700 mentions), Sidekick L(X) and Sidekick L(E) mentions.