include(ABSPATH.'/adcodes/single_ads.php'); ?>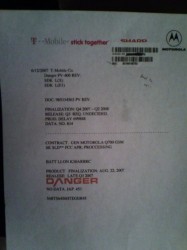 We took a closer look at the supposed document and have some more info. It was taken with a Sidekick 3 on 06/19/2007. It appears to be that the Danger PV-400, aka the Sidekick LX/LE is requested for release in Q3 of 2007, but is slated for release sometime between Q4 of 2007 and Q2 of 2008. The Sidekick Slide (SLD?) aka the Motorola Q700 has a "REALESE" date of Q3 2007. Is T-Mobile just bad at spelling or not know where the caps lock key is? And were they really wanting to release two Danger devices in Q3 2007?
Here's the text from the paper:
6/12/2007 T-Mobile Co.
Danger PV -400 REV
SDK L(X)
SDK L(E1)
DOC. 985334563 PV REV.
FINALIZATION: Q4 2007 – Q2 2008
RELEASE: Q3 REQ. UNDECIDED
PROD. DELAY 699888
DATA. NO. 834
—————————-
CONTRACT. GEN MOTOROLA Q700 GSM
SK SLD** FCC APR: PROCCESSING
BATT LI-ON K38ARBRC
PRODUCT FINALIZATION: AUG 22, 2007
REALESE: LATE Q3 2007
DANGER
NO DATA. JAP. 453
56RT56456HTEGER45